The Sustainability of the Electronic Management Information System of Bangladesh's Directorate General of Family Planning

tr-20-411.pdf
— PDF document, 4,603 kB (4,713,679 bytes)
Author(s): Kabir, M.H.
Year: 2020
Kabir, M.H. (2020). The Sustainability of the Electronic Management Information System of Bangladesh's Directorate General of Family Planning. Chapel Hill, NC, USA: MEASURE Evaluation, University of North Carolina.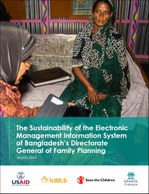 Abstract:
This report addresses the sustainability issues of the electronic management information system (eMIS) that has been implemented in the Directorate General of Family Planning (DGFP) under the Ministry of Health and Family Welfare (MOHFW) of Bangladesh. The pilot implementation of the eMIS began in January 2015 in two districts (Tangail and Habiganj), with support from the United States Agency for International Development (USAID)-funded MEASURE Evaluation project, in partnership with icddr,b and the Mamoni Maternal and Newborn Care Strengthening (MNCSP) project. The eMIS was scaled up in 2018 and reached 32 districts, either partially or in full, by December 2019. At the field level, the tools are being used by more than 10,000 users.
The eMIS aimed to automate the business processes of community health and family planning workers, their supervisors, and providers working in first-line facilities (called Union Health and Family Welfare Center), based on mobile technologies. Web-based tools were also developed for managers at the subdistrict and district levels and for decision makers at the central level. The eMIS tools help users and managers of the DGFP gain the benefits of digitization, as well as enable the DGFP to become a data-driven organization. The eMIS reached a milestone with the declaration of a paperless Tangail on March 1, 2020 by the minister for health and family welfare.
The implementation of the eMIS was supported within a project framework, and carrying it forward requires internalizing it within the DGFP and making it sustainable. Key issues related to sustainability, such as the acquisition of hardware, software maintenance and development, capacity building (human resource development, skills, training), implementation mechanisms, and the use of data for decision making are discussed in this report, and relevant recommendations are provided, along with an action plan.