Interventions to Strengthen the Health Facility Operations and Management Committees in Nepal: Final Report

tre-17-005.pdf
— PDF document, 4,053 kB (4,150,306 bytes)
Author(s): Jessica Fehringer, Mary Allegra Paul, Dirgha Ghimire, Jeevan Raj Lohani, Prem Bandhari, Diwakar Basnet, B. C. Kalpana, Kamana Uprety
Year: 2018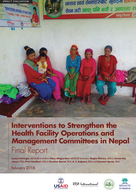 Abstract:
Women, girls, and members of disadvantaged groups (DAGs) in Nepal face structural barriers and discrimination that affect their access to education, economic opportunities, healthcare, and ultimately, health outcomes. Recognizing these inequalities, the Government of Nepal (GON) prioritized the incorporation of gender equality and social inclusion (GESI) in the country's health policies, programs, and plans. Part of the government's GESI integration strategy is to make the Health Facility Operation and Management Committees (HFOMCs)―the local oversight bodies for health facilities (HFs)―more inclusive and equitable. The strategy seeks to increase the HFOMCs' responsibility for participatory planning, informed by the needs and demands of target groups, and to create trust between healthcare providers and communities through regular meetings and other interactions.
The United States Agency for International Development (USAID)'s Gender, Policy, and Measurement (GPM) Program partnered with the Suaahara Project, a community-focused organization in Nepal, and the GON to strengthen the HFOMCs by testing two capacity strengthening approaches.  
This report shares results from the impact evaluation assessing the intervention approaches.