A Review of Diabetes Treatment Adherence Interventions for the Eastern Caribbean

WP-13-131.pdf
— PDF document, 742 kB (760,788 bytes)
Author(s): McGuire M, Freyder M, Ricketts P
Year: 2013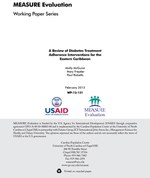 Abstract:
Objective: Systematically analyze previous research pertaining to the monitoring of adherence to diabetes medication, identify barriers to patient compliance, and examine possible intervention models dealing with this public health burden in the Eastern Caribbean.
Search Methods: Literature was reviewed for meta-analysis using PubMed and Google Scholar searches. Information was included from Web site searches on the American Diabetes Association, the World Health Organization, the Pan-American Health Organization, and the Caribbean Health Research Council Web pages in March 2012. Article inclusion was restricted to English language articles published in or after 2004; many articles were included due to lack of academic coverage of the subject. Major contributing journals included Diabetes Care, the West Indian Medical Journal, Diabetic Medicine, Quality in Primary Care, and Primary Care Diabetes.
Main Conclusions: While good work has been published on the barriers to treatment and intervention models to support diabetes compliance in the Caribbean, there are many efficacious non-Caribbean models that could be culturally tailored and applied in the Eastern Caribbean for better diabetes outcomes.