Country Ownership in International Development: Toward a Working Definition

wp-16-164-en.pdf
— PDF document, 284 kB (291830 bytes)
Author(s): Watson-Grant S, Xiong K, Thomas J.C.
Year: 2016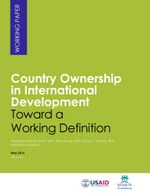 Abstract:
Country ownership in development aid assumes that with recipient countries' interest and participation, "owning" aid-funded initiatives will lead to more successful outcomes. But there is no universally accepted definition of country ownership. We conducted a systematic literature review to identify aspects of country ownership mentioned in peer-reviewed and gray literature, and identified four themes: 1) power and legitimacy; 2) commitment and responsibility 3) capacity; and 4) accountability. We also analyzed and compared similarities and differences in how different documents define these dimensions, with the results providing a framework for measuring country ownership of development initiatives. Measurement approaches must recognize that factors within and among these dimensions interact with one another in complex ways. Use of measures to identify steps toward more ownership entails conversations among stakeholders about necessary change.
This document is not available in print from MEASURE Evaluation.