The Strongest Motivators for Using Routine Health Information in Family Planning: A Prospective Study in Lagos, Nigeria

Strongest Motivators for Using Routine Health Information in Family Planning_WP-17-200.pdf
— PDF document, 668 kB (684,986 bytes)
Author(s): Abayomi Joseph Afe, Adeola Olatoun, Timothy Akinmurele, Oduola Abimbola, and Ganiyu Agboola
Year: 2017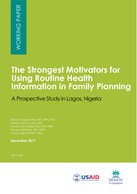 Abstract:
Health system performance depends on the collection, collation, and use of quality health data and information. One of the primary roles of a routine health information system is generating data within the health system for decision making, policy formulation, and implementation. When data are generated and analyzed, they can provide relevant information to support planning and management of high-quality healthcare services at the facility, ward, local government, state, and federal levels. 
MEASURE Evaluation, funded by the United States Agency for International Development, supported this study to bridge the knowledge gap concerning the motivators behind using routine health information in family planning (FP) to improve the use of FP services.
The study design was a prospective, cross-sectional study conducted over a period of 12 months in three local government areas of Lagos State, in southwest Nigeria. Twelve key informant interviews were conducted and 425 questionnaires were administered to 105 men and 320 women working in the health sector.
This working paper outlines the study and results and provides a series of recommendations based on these findings.