Prevention Needs and Priorities among Vulnerable Female Populations Living with HIV

Prevention Needs and Priorities_Temeke_Tanzania_WP-18-203.pdf
— PDF document, 662 kB (678,692 bytes)
Author(s): Ida M. Swai, MPAFF; Dino Wosio; and Mwanaisha Mnaro
Year: 2018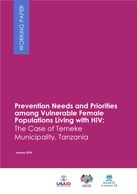 Abstract:
Historically, HIV prevention efforts have focused on reducing risk among those who have tested negative for the virus and those with unknown serostatus. However, these efforts overlook the specific role that people living with HIV can play in prevention. These HIV-positive populations should be engaged in prevention efforts to help them live healthy lives and to minimize the risk of spreading HIV to others. This study's purpose was to establish the prevention needs and priorities for vulnerable female populations living with HIV: pregnant women, adolescent girls, female sex workers, and female elders.
The study employed a mixed-methods approach relying on survey data collected from 246 females living with HIV who were attending four care and treatment centers across Temeke municipality, in the Dar es Salaam region. Focus group discussions were conducted with 50 selected respondents and eight policy-related questionnaires were completed by program administrators.
This report outlines background and methods, reports results, and provides recommendations to address the unmet prevention needs in Temeke Municipality, Tanzania.