Enhancing HIV Retention and Clinical Outcomes in Tanzania through Pediatric- and Adolescent-Friendly Services

Enhancing HIV Retention and Clinical Outcomes in Tanzania_Pediatric-Adolescent-Friendly Services_WP-18-204.pdf
— PDF document, 476 kB (487,753 bytes)
Author(s): Redempta Mbatia, Samwel Kikaro, Edward Mgelea, Francis Nyabukene, Christopher Henjewele, Lydia Temba, Sisty Moshi, Agnes Rubare, and Benedicta Masanja
Year: 2018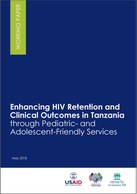 Abstract:
Background: Despite global reductions in AIDS-related deaths among adults, the rate for children increased by 50 percent. This increase points to inadequate testing, counselling, and treatment coverage and poor retention in services for these children. Pediatric- and adolescent-friendly health services have the potential to improve retention and clinical outcomes among children living with HIV. This study was conducted to provide evidence of the effectiveness of pediatric- and adolescent-friendly clinics in Kigoma, Tanzania.
Methods: We conducted a mixed-methods study using a retrospective cohort analysis of secondary data from the national CTC2 database that routinely collects patient-level information from all HIV clients receiving care and treatment. Outcomes were compared between those enrolled before (Group I) and after (Group II) the establishment of pediatric- and adolescent-friendly HIV care and treatment services. Qualitative data were collected through focus group discussions and in-depth interviews to assess the perceptions of adolescents, health providers, and parents or guardians of pediatric and adolescent HIV clients.
Results: Late initiation of antiretroviral therapy (ART) in clinical stage IV was more common before the establishment of pediatric- and adolescent-friendly services. Three-quarters of children and adolescents initiated on ART had an immunological assessment at baseline in Group II compared to less than half in Group I. Retention rates for children and adolescents at three, six, nine, and 12 months was better after the establishment of the friendly clinic. The probability of attrition from HIV care after 12 months was higher in Group I. Qualitative analysis revealed that pediatric- and adolescent-friendly services provided support for disclosure of HIV status and strategies for coping with the disease. 
Conclusion: This study showed that pediatric- and adolescent-friendly services for HIV care and treatment improve retention in HIV care.