Strategic Information Capacity in South Africa
MEASURE Evaluation SIFSA (Strategic Information for South Africa) seeks to ensure that the health system in South Africa produces useful and high quality information that contributes to sustainable policy, planning and programmatic decision making.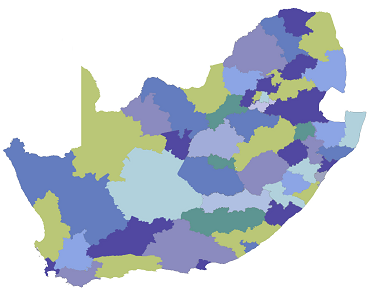 The MEASURE Evaluation–Strategic Information for South Africa (MEval-SIFSA) project is a President's Emergency Plan for AIDS Relief (PEPFAR) initiative that supports the health system in South Africa to produce useful and high-quality information that contributes to sustainable policy, planning, and decision making.
The USAID Mission in South Africa engaged and funded MEASURE Evaluation to implement the SIFSA project in support of the South African Government (SAG) and PEPFAR and their implementing partners to improve strategic information (SI) for evidence‐based management of HIV and related health programmes, which, in turn, will address real needs and yield better health outcomes for people.
MEASURE Evaluation at the University of North Carolina at Chapel Hill manages the MEval-SIFSA project, with implementation led by John Snow Inc. (JSI) in collaboration with four consortium partners (ICF International, Management Sciences for Health, Palladium, and Tulane University).The project focuses on three priorities:
Implementation of strategies and policies to enhance HIV SI
Building SI capacity for data quality and use
Building capacity to strengthen health information systems
In addressing these priorities, MEval-SIFSA's strategic emphasis is on:
A system‐wide approach to reduce duplication of effort and reach all levels of data producers and users (e.g., physicians, health ministry officials, health providers, and others)
An emphasis on data use that addresses challenges and constraints, develops the capacity of SAG to improve data management and data quality, presents data in a user‐friendly way, and analyses and interprets data
Leverage of technology to strengthen and integrate systems and reduce costs
MEval-SIFSA does this through tailored technical assistance (TA) aimed at transferring skills and building the capacity for quality monitoring and evaluation (M&E). These efforts are important to produce quality routine health data, and increase skills to analyse and use data so that better health policy leads to better interventions and better health outcomes.
The areas of technical assistance and expertise in which MEval-SIFSA enhances capacity include data quality, data demand, and information use; eHealth; eLearning; mHealth; geographic information systems (GIS); establishing a District Health Management Information System (DHMIS) helpdesk; and strengthening routine health information systems (RHIS).
This project began as PEPFAR was scaling down its budget for South Africa, resulting in a growing emphasis on TA in provinces and districts to improve data collection and use, and to achieve a rapid scale-up of quality HIV and AIDS interventions. The project works with the Department of Health, Department of Planning Monitoring and Evaluation (DPME), and the University of Pretoria, as well as other stakeholders and implementing partners.