Using Social Media Data to Understand Changes in Gender Norms: Guide

Using Social Media Data to Understand Changes in Gender Norms_Guide_MS-18-147.pdf
— PDF document, 449 kB (460,046 bytes)
Author(s): MEASURE Evaluation
Year: 2018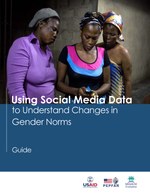 Abstract:
As technology becomes increasingly accessible around the globe, social media has emerged as a tool to help researchers and health workers and administrators understand a broad array of health issues. It has been harnessed to surveil infectious disease, forecast asthma exacerbations, monitor mental health following traumatic events, and gauge attitudes and beliefs about medical conditions, products, and treatments. Gender norms—the socialized expectations about women, men, boys, and girls and the power dynamics between them—constitute one frontier for social media research. Although many national and international programs seek to change harmful gender norms to achieve equities in health, few collect data on societal attitudes. Because social media provides people with an opportunity to share aspects of their lives, it may have the potential to provide insights into attitudinal and behavioral aspects of gender inequality and to capture information that is difficult and costly to obtain through regular surveys.
A MEASURE Evaluation study explored the feasibility of using large social media data sets to track changes in attitudes toward, and gender norms regarding, sexual relationships between younger women and older men and gender-based violence against women and girls in sub-Saharan Africa. After reviewing several possible social media platforms, including Facebook, Snapchat, and Instagram, we selected Twitter for its data availability and ease of access. We assessed existing methods for extracting data from Twitter and analyzing metrics to understand the challenges and limitations of using social media data. We also reviewed ethics and data security considerations with each method.
The purpose of this document is to provide guidance on collecting, analyzing, and interpreting Twitter data on gender norms. We will discuss when social media can be useful in monitoring, evaluation, and research; what data are available; and methodological challenges including generalization, biases, protecting individual privacy, and considering ethical implications.
This guidance is written for monitoring and evaluation officers or data users with some background in Microsoft Excel.
Find the related report here: Using Social Media Data to Understand Changes in Gender Norms