Using Social Media Data to Understand Changes in Gender Norms

Using Social Media Data to Understand Changes in Gender Norms_tr-18-295.pdf
— PDF document, 2,079 kB (2,129,861 bytes)
Author(s): Brittany Iskarpatyoti, Heather Biehl, and John Spencer
Year: 2018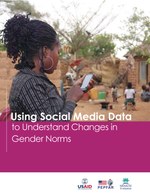 Abstract:
As access to digital devices grows around the globe, social media platforms have emerged as tools to better understand a broad array of health issues. Social media have been harnessed to surveil infectious disease; forecast asthma exacerbations; monitor mental health following traumatic events; and gauge attitudes and beliefs about medical conditions, products, and treatments.
Gender norms—the socialized expectations about women, men, boys, and girls and the power dynamics between them—are a frontier for social media research. Although many national and international programs seek to change harmful gender norms to achieve equities in health, few collect data on social attitudes. Because social media allow people to share details about their lives, these platforms may provide insights into attitudinal and behavioral aspects of gender inequality and capture information that is difficult and costly to obtain through surveys.
We explored the feasibility of using large social media data sets to track changes in attitudes toward and gender norms related to sexual relationships between younger women and older men ("blessers" or "sugar daddies") and gender-based violence (GBV) against women and girls in 10 sub-Saharan African counties (Kenya, Lesotho, Malawi, Mozambique, South Africa, Swaziland, Tanzania, Uganda, Zambia, and Zimbabwe). This study assessed the challenges and limitations of using social media data to track changes over time in attitudes and gender norms, the type of information that can be gathered from Twitter to track changes in gender norms, and the emerging themes and thematic variations from tweets about age-discordant relationships or GBV.
Find related guidance here: Using Social Media Data to Understand Changes in Gender Norms: Guidance