Surveillance, Suivi, et Evaluation des Programmes de Lutte contre le Paludisme : Cours en Ligne

ms-20-184-fr.pdf
— PDF document, 5,744 kB (5,882,234 bytes)
Author(s): MEASURE Evaluation
Year: 2020
MEASURE Evaluation. (2020). Surveillance, Monitoring, and Evaluation of Malaria Programs: Online Course. Chapel Hill, NC, USA: MEASURE Evaluation, University of North Carolina.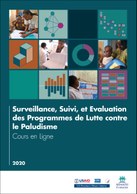 Abstract:
La surveillance, suivi et'évaluation (SSE) jouent un rôle vital dans tous les programmes de contrôle et de prévention du paludisme. Ce cours en ligne, offert par MEASURE Evaluation, fournit une introduction complète aux SSE des programmes de lutte contre le paludisme.
Téléchargez un PDF du cours complet ou téléchargez les modules individuels ci-dessous. Pour accéder au cours en ligne de certification, rendez-vous sur ce site: www.memalaria.org.
| | Module 2: Utilisation des Données pour la Prise de Décisions dans les Programmes de Lutte contre le Paludisme | Module 3: Introduction à la Surveillance, Suivi et Évaluation des Programmes de Lutte contre le Paludisme |
| --- | --- | --- |
| Module 4: Comment Développer un Plan de Surveillance, Suivi et Évaluation pour les Programmes de Lutte contre le Paludisme | Module 5: Les Cadres de Surveillance, Suivi et d'Évaluation pour les Programmes de Lutte contre le Paludisme | Module 6: Les Indicateurs pour la Surveillance, le Suivi et l'Évaluation des Programmes de Lutte contre le Paludisme |
| Module 7: Les Sources des Données pour la Surveillance, le Suivi et l'Évaluation des Programmes sur le Paludisme | Module 8: Analyse, Interprétation et Présentation des Données sur le Paludisme | Module 9: Les Éthiques dans la Surveillance, Suivi et Évaluation des Programmes de Paludisme |
| Module 10: Le Leadership dans la Surveillance, Suivi, et Évaluation des Programmes de Paludisme | | Module 12: Le Genre dans la Surveillance, Suivi et Évaluation des Programmes de Paludisme |
This publication is also available in the following language:
English