Surveillance, Monitoring, and Evaluation of Malaria Programs: Online Course

ms-20-184.pdf
— PDF document, 5,497 kB (5,628,982 bytes)
Author(s): MEASURE Evaluation
Year: 2020
MEASURE Evaluation. (2020). Surveillance, Monitoring, and Evaluation of Malaria Programs: Online Course. Chapel Hill, NC, USA: MEASURE Evaluation, University of North Carolina.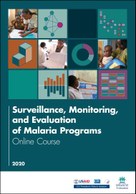 Abstract:
Surveillance, monitoring, and evaluation (SME) plays a vital role in all malaria control and prevention programs. This course provides a comprehensive introduction to SME of malaria programs.
Download a PDF of the full course or download the individual modules below. The course is also available in French.
To access the online course for certification, go to www.memalaria.org.
This publication is also available in the following language:
French