Health Information System Strengthening: Standards and Best Practices for Data Sources

Health Information System Strengthening Standards and Best Practices.pdf
— PDF document, 6,394 kB (6,548,324 bytes)
Author(s): Fern Greenwell, PhD, MPH; Shannon Salentine, MPH
Year: 2018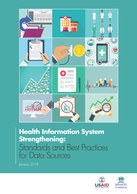 Abstract:
The purpose of this guide is to help health authorities and health information officers align health information system (HIS) data sources with standards and best practices. This alignment will maximize the likelihood that information on health conditions, services, and resources are recorded in a consistent way and ensure that reliable data produce comparable statistics at all levels of the health system. National standards are important especially for types of data for which global standards do not exist. The same principles apply to national and international standards; they should generate data that are exhaustive and mutually exclusive, in a format that can be analyzed statistically. 
Although standards and best practices are continuously evolving, countries' ongoing efforts to align data sources will increase the HIS efficiency to monitor population health status and health service delivery, identify health inequalities, and allocate health finances to achieve universal health care. 
This guide is primarily directed to national health authorities and health information officers in ministries of health. It may also be informative for a wider range of technical and policy-oriented professionals. Each HIS data source module covers an HIS data source, summarizes best practices and standards for data from that source, and offers additional references to tools and resources.
This is the complete tool. Modules can be downloaded individually here. 
Access the related Demand and Readiness Tool for Assessing Data Sources in Health Information Systems (HIS DART) resource.