Staff Profile: Kola Oyediran
Staff profile series: Kola Oyediran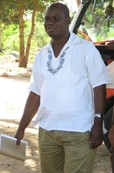 Kola Oyediran has been doing M&E work for 18 years, a fact that seems to surprise even him.
"I started working in M&E in 1992, and I've never moved away from it," Oyediran said with a hint of awe in his voice. "Maybe it is just part of my background. I have never thought about doing another thing."
Oyederin, the senior data advisor and country coordinator in Nigeria, has been working with MEASURE Evaluation and John Snow, Inc. (JSI) since 2005. He earned his bachelor's and master's degrees in demography and social statistics from Obafemi Awolowo University in Nigeria, and then received his Ph.D in sociology (with a specialty in population studies) from Nigeria's University of Ibadan. He lives in Abuja with his wife and three children.
"I am a complete Nigerian," he said proudly.
Since beginning his work with MEASURE Evaluation and JSI, he is particularly pleased with the improvement he has seen in the National Agency for the Control of HIV/AIDS (NACA). In 2009, NACA and MEASURE Evaluation conducted the first national assessment of Nigeria's HIV/AIDS M&E system.
"I think we've been able to bring NACA to a higher position in M&E," he said. "So for me, I'm excited about it." 
Another aspect of his work that excites Oyediran has been participating in conferences: "Working at MEASURE has given me the opportunity to present some of the good works we are doing."
So far, Oyediran has attended five conferences. In May, he and M&E Technical Advisor Samson Bamidele gave a presentation at the National Conference on HIV/AIDS in Nigeria.   
"Across the board, I can say it has been an exciting work experience," he said.
When he's not working, Oyediran likes to read, write and watch football (after Nigeria, his favorite team is Brazil). He also spends as much time as he can with his daughter and two sons.
"They keep me busy, and they keep me thinking," he said, laughing.